| | |
| --- | --- |
| Anne France Confronts Professor Treacle | |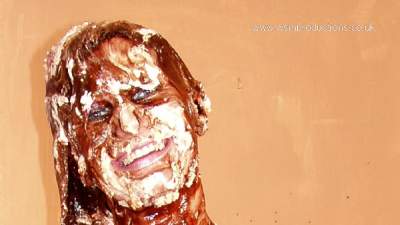 Starring the following model:
"A final Professor Treacle Slapstick adventure"
| | |
| --- | --- |
| File count: | 4 |
| Total size: | 158.56 MB |
| Total runtime: | 19 mins, 12 secs |
| Date added: | 12/29/17 |
| Year produced: | 2004 |
| Product ID: | WSM413 |
| Views: | 2247 |
| Scene ID: | 26223 |

$9.20
A final Professor Treacle Slapstick adventure.

Stream 1

Yorkshire lass Anne France calls in to ask 'When she was starting with this part?'

The Prof is quite curt and tells her straight, she did not get the part.

Anne is disappointed and says she was 'Looking forward to getting all messy!'

The Prof is very dismissive, says goodbye and gets on reading his newspaper.

Anne spots the foodstuffs laid out for that afternoon's shoot (the part she auditioned for).

His non-caring attitude to her has riled Anne.

Taking a chocolate dessert she empties it over his head.

Anne tells him she has been messed about, so she is getting her own back.

Now the Prof is riled and retaliation is imminent!

We then have some excellent tit for tat material, so reminiscent of Laurel and Hardy.

Anne gets rice pudding in the knickers

Sits on a blueberry cake

Gets squirty cream between her thighs

Treacle to her bum

Rice pudding inside her blouse

Stream 1 runs 8 mins 47 secs

Stream 2

The flow of mess over Anne continues:

Lemon curd and peaches

Golden syrup

Banana Angel Delight

He tells her off. 'You wanted to get messy so what are you complaining about?'

Next, he unbuttons her blouse before smothering her front with a handful of golden syrup.

More syrup follows, before Anne takes a handful from the bowl to slop the Prof over his shirt.

See Free Trailer for what happens next! As expected the Prof pours the bowl full of treacle over her head and massages it into her hair, then smothers her face in treacle!

The messy mayhem continues with cheesecake, treacle, rice pudding, custard, golden syrup plus food slops off the floor!

The Prof continues to daub away bringing more exclamations of surprise from Anne.

She slops some old cake on his head.

A huge strawberry gateau is produced.

One handful is rubbed into her face, one into her boobs and the rest slopped on top of her head!

Stream 2 runs 10 mins 03 secs

Stream 3

The tit for tat fun continues between this very messy pair.

Anne moans and groans but secretly enjoys it all, often laughing after moaning.

They have great fun with a chocolate fudge cake.

There is a very funny moment as the Prof smothers Anne's boobs with squirty cream.

Then the Prof returns to the attack smothering the floor slops over her.

He is energetic and remorseless.

But Anne does her best to dish out some treatment to him.

Stream 3 runs 10 mins 44 secs

So I reflect on what was achieved with Professor Treacle.

We went as far as we wished to go with some ultimate slapstick.

The girls were fabulous as well.

The Prof will be remembered for his own unique Slapstick.

Few will reach his standard.

If you wish to see the write-up of the final 4th Stream with XXX, then go to movie xxx025 under 'Anne Wants Slapstick with Professor Treacle'.