| | |
| --- | --- |
| Custard Couple (CC) in Halloween--XXX HD Movie | |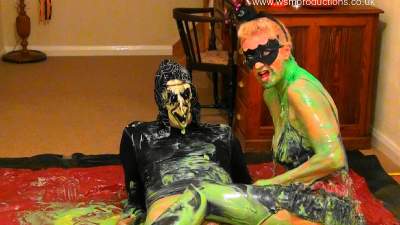 Starring the following model:
"Erotic couple play at its ghoulish best!"
| | |
| --- | --- |
| File count: | 3 |
| Total size: | 160.99 MB |
| Total runtime: | 15 mins, 44 secs |
| Date added: | 10/29/17 |
| Year produced: | 2014 |
| Product ID: | XXX022 |
| Views: | 2787 |
| Scene ID: | 25046 |

$10.50
HD movie xxx022 opens with Mrs. CC dancing enticingly in her Halloween outfit.

Mr. CC arrives as a spider beast and squirts her cloak with paint.

Mrs. CC demands more mess!

Mr. CC produces strawberry and banana whipped desserts plus loads of custard.

Mrs. CC tells Mr. CC that she is 'Your wicked little witch!'

She starts by rubbing strawberry whip over her body and purring with delight. 'Oh yeah! Give me Mess!' she contentedly says.

She picks up the container and the remainder of the strawberry whip goes over her shoulders and down her back.

As Mrs. CC is wearing crotchless knickers, we get some very revealing bum glimpses as she spreads the strawberry whip over her bum, thighs and stockings.

Kneeling, she smears her front.

Then she sits to cover her stockings.

She asks Mr. CC if he likes her (messy) stockings?

'Oh yes!' he replies…….. 'This dirty devil loves it!'

Mrs. CC kneels up to tease us with a further raunchy bum shot in those open knickers.

Next, she smears herself in banana whip.

When well messed up, Mrs. CC says 'Here comes my hunky beast! This is just what I have been waiting for!'

Mr. CC commands her to get on all fours.

Mrs. CC says 'I must do what the master tells me!'

The master starts by pouring custard over her knickered bum, then down her back and over her thighs. He pours custard inside her knickers.

He pulls her tighter to him, while still covering her back with custard (see Free Trailer).

Mrs. CC asks if her master is pleased with her? Of course he is!

Opening her knickers wide, his cock is out then inserted in her!

There is then 3 minutes of fucking with Mrs. CC still in her messy clothes.

She urges him on and Mr. CC grows more and more vigorous until he finally climaxes!

Then she sits on his cock for a further 2 mins 33 secs of penetrative play as she massages his arse, balls and cock with custard.

Mrs. CC enjoys herself as he fucks her hard!

Next, after some hand encouragement, she sucks away at his cock.

Mr. CC cums spectacularly…….and is a very contented beast!

'That was one sexy, horny fuck' says Mrs. cc.

she wishes you all 'A happy Halloween!'

Phew! What a sexy pair they make!

Erotic couple play at its ghoulish best!

There are 72 images in set s400xxx.

some of these are quite explicit!

But we show you 4 sample images which are horny, but not XXX.