| | |
| --- | --- |
| The Muddiest Goalkeeper of Them All! HD Movie | |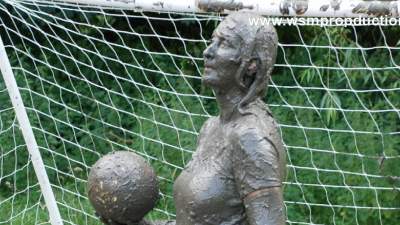 Starring the following model:
"Who was the Muddiest Goalkeeper of them all?"
| | |
| --- | --- |
| File count: | 3 |
| Total size: | 468.4 MB |
| Total runtime: | 18 mins, 52 secs |
| Date added: | 12/24/17 |
| Year produced: | 2012 |
| Product ID: | wsm134-cc13 |
| Views: | 3371 |
| Scene ID: | 26202 |

$8.00
muddy fun

who was the Muddiest Goalkeeper of them all?

It is now confirmed as Mrs. Custard Couple (cc)!

she was the 9th competitor in our 'Muddiest Goalkeeper Competition'.

See her 19 minute movie wsm134-cc13 as the evidence!

Mrs. CC really enjoyed getting totally muddy and does not stop laughing!

Mr. CC however, took it very seriously and he had two aims:

1. to try and blast as many goals as he could, and

2. to get his happy and co-operative wife as muddy as possible.

Mrs. CC is dressed in a white mini skirt and white short sleeved top, worn with white full length stockings, black lacy knickers and white trainers.

We see a frisky Mrs. CC warming up in the meadow.

Then it is into the goalmouth for the action.

Mrs. CC is quite reserved at first, but soon her bum and legs are muddied.

But before long she is on her back in the goalmouth enjoying the wet feel as her muddied top clings to her back – see trailer.

but Mr. CC demands more effort and more mud-larking from his pretty wife.

Mrs. CC flops about but mainly on her bum and back.

She gets her front well splashed, but this is not what Mr. CC has in mind.

He tells her off for not trying, irritated at Mrs. CC's lack of effort to dive for the ball.

He runs out of patience and gives Mrs. CC a proper mudbath, rolling her about and sloshing her back and bum, before unceremoniously pushing her face into the muddy quagmire, then giving her hair a mud shampoo.

A very muddied Mrs. CC continues her goal-keeping duties, unaware that her skirt was caught behind at her waist, so we have a number of muddied bum shots.

Mrs. CC is now totally enjoying the experience as she really does get excited by being so muddy!

A special something is added when we have a mature lady determined to end up muddied from head to toe and reveling in the messy experience.

After 15 mins Mrs. CC is nude, but very muddy and so is mr.cc, stripped to his underpants.

Mr. CC continues to chastise his wife and splosh her with mud.

We conclude, as we began, with an interview.

Image set M196 of Mrs. Custard Couple's (CC) entry as the 9th competitor in the muddy goalie competition shows how Mrs. CC treated it (or should I really say Mr. CC)…… as a competition!

there are 397 Enhanced (full screen) images that give a kick by kick account.

These are amazing messy total mud shots and Mr. CC ensured that every part of her body was muddied!

Mrs. CC eventually bares her boobs, soon has her skirt removed, then her knickers.

She ends nude, totally mud caked and glistening in the sun!

We show you 7 sample shots of Mrs. CC as the muddiest goalkeeper from image set M196.